7th IOBC/WPRS - Integrated Protection of Olive Crops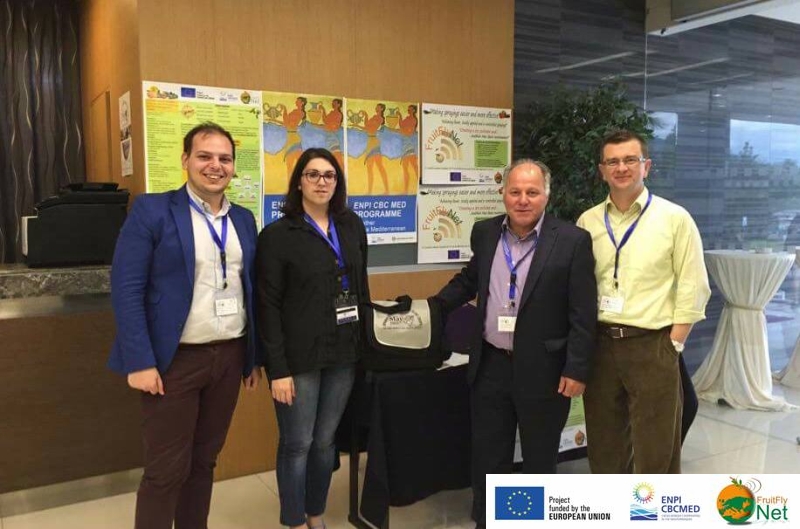 FruitFlyNet participated in the 7th meeting of the IOBC/wprs WG "Integrated Protection of Olive Crops". The event was co-organized by the Hellenic Entomological Society and the Technological Educational Institute of Peloponnese under the auspices of IOBC/wprs.
Project Coordinator, Prof. T.Tsiligiridis, was an invited speaker concerning the "Remote management of olive fruit fly based on a Location-aware System (LAS)". Project participated also with the "Development of an innovative spatial decision support system for olive fruit fly monitoring and control".
View the Scientific Program here.
Remote management of olive fruit fly based on a Location –Aware System (LAS) control
Theodore Tsiligiridis
Agricultural University of Athens, Informatics Laboratory, Division of Informatics, Department of Agricultural Economy and Development School of Food, Biotechnology and Development, 75 Iera Odos, 11855, Athens, Helenic Republic
Extended Abstract: Nowadays, smart PDAs are able to use information about the environment in order to enhance the user experience. A smart handheld device or service could customize its response depending on where the user is located. This is known as Location-Awareness (LA). For example, once your mobile device knows where it is, it can use this information in many different ways—you could bring up a map of your location with a single click, access web sites relevant to your location, publish presence information to your friends etc.. Recent advances in Information and Communications Technologies (ICTs) allows the implementation of Location Aware Systems (LASs) with enhanced capabilities tailored to the end users' needs. Generally speaking, a LAS can be used almost in every activity that has spatial characteristics. Scientific issues and especially Pest Management (PM) problems with spatial features can be significant assisted by the design, development and implementation of a suitable LAS.
FruitFlyNet project aims to develop an innovative LAS geared to prevent and reduce the environmental risk factors at the Mediterranean Sea basin level. It contributes to the development, implementation and demonstration of environmentally effective e-monitoring and ground spraying control solutions based on prototypes, technological innovations and knowledge transfer for specific key-pests in the Mediterranean, in order to increase the quality and quantity of available fruit to local consumers at lower prices. The system will be developed, deployed, and tested for Bactrocera oleae (in Spain, Jordan and Greece), Ceratitis capitata (in Italy), Rhagoletis cerasi (in Greece), Dacus ciliatus and Bactrocera zonata (in Israel). [1.2]. In this talk we will provide the general overview of the system under development concentrating more on the on the case of olive fruit fly. Some preliminary outputs are presented here.
The main challenges of the FruitFlyNet project are:
·

To deal with different fruit fly species, that have completely different biology, phenology and food preference characteristics. For example, species like the olive fruit fly and the Mediterranean fruit fly have several generations per year, while the cherry fruit fly has only one generation per year, and allows only a "narrow" time window to act against it. Moreover, the Mediterranean fruit fly has an extremely large variety of food preferences, while olive fruit fly and the cherry fruit fly are able to infest only olives or and cherries, respectively. In this context, each and every species has to be treated individually, while the existence of different pilot areas of testing makes this effort more complex.

·

The development of a wireless Real-time Trapping and Insect Counting (ReTIC) device that allows the early detection of fruit flies in the field. The ReTIC e-trap is a unique, novel and accurate tool that will be adjusted and tested for the detection and remote identification of the fruit fly species under consideration. This is particularly important, as early detection, practically, is not always achieved with the trap types that are currently available, as on-site visits are required, which makes these devices

unsuitable for area-wide management.

·

The design, development and implementation of a real-time Wireless Multimedia Sensor Network (WMSN) able to acquire and transmit scalar data and images from the field to a remote host station. In addition a semi-automatic trapping and insect counting warning system, based on existing traps, with specific characteristics is under development and integration with LAS for the detection of invasive species.

Further, a flexible architecture needs to be adopted for integration of a WMSN to the cloud for multimedia sensor data collection and sharing using Web services [3].

·

The design, development and implementation of a Spatial Decision Support System (SDSS) in order to support LAS by determining 'how' and 'when' to spray.

This solves problems related with over/under spraying, ensures that areas will not be sprayed more than once, as well as that protected areas will not be sprayed. It also provides important decisions like: 'do not spray', 'spray with density x', 'abort spraying process', 'stop spraying process', 'go to the next plot', etc. Thus, a

part from the implementation of the trapping device per se, the trapping results will be linked with specific spatiotemporal patterns of insect populations, which consists the basis of early warning protocols and insect movement among areas and hosts. At the same time the trapping data will be used to reduce the number of insecticidal applications, the amount of insecticides used, the residues in the final commodity and the energy that is needed for insect control (tractors, fuel etc.), suggesting not only the optimum timing but also the optimum application process. This, to its wider sense, it will also perform the final optimization of the control treatments [4-5]
The LAS under deployment offers an advanced IPM system for different fruit fly species. It is based on an innovative trap capable of semi-automatically/automatically counting each insect trapped, identifying the species and send the data wirelessly. The system already under development will also be able to function autonomously during the whole fruiting season, have an operative life-time of at least one year (possible extension needs further agreement with EU authorities) and be adapted to handle other fruit flies. The implementation of the ReTIC device contributes to the implementation of environmentally effective pest monitoring and control.
Agriculture and related industries are fields that can greatly benefit by the adoption of new, harmonized practices. For example, the surveillance and monitoring of the pest population in order to timely apply bait-sprays is the most important activity for pest management. At farm level, operators perform periodical surveys of the traps distributed through the field. This is a labor-, time- and cost- consuming activity and requires a high level of expertise and accuracy. So, it would be of great advantage to have an affordable location-aware system like the one provided by the FruitFlyNet, doing this task semi-automatically/automatically in an accurate and more efficient way.
References
1. M. AlQasem*, A. Sciarretta, M. R. Tabilio, M. Miranda-Chueca, D. Nestel, N. Papadopulos, T. Tsiligiridis (2014),Fruit Fly Net Project: E-monitoring and pest management design issues of a location-aware system for olive fly and other fruit fly pests. In: Proceedings of the International Conference of Olive Trees and Olive Products (OLIVEBIOTEQ 2014), Session: Pest and Disease Control, 3-6 November, 2014, Amman, Jordan.
2. A. Sciarretta, M.R. Tabilio, I. Marwan, M.A. Miranda, D. Nestel, V. Alchantis, Y. Cohen, C. Athanassiou, N. Papadopoulos, T. Tsiligiridis (2014), FruitFlyNet: un sistema georeferenziato per il monitoraggio e la lotta ai Ditteri Tefritidi. In: XXIV Congresso Nazionale Italiano di Entomologia ( 2014), Giovedi 12 giugno, X - Entomologia agraria, No 7, 9-14 Giugno 2014, Orosei (Sardegna), Italy.
3. T. Tsiligiridis, C. Pontikakos, D. Perdikis,(2014), Architectural Issues of a Location-Aware System Applied in Fruit Fly E-Monitoring and Spraying Control, AGRIS on-line Papers in Economics and Informatics (AGRIS), Vol. VI, Number 4, pp.195-207, 2014.
4. C.M. Pontikakos, T.A. Tsiligiridis, C.P. Yialouris, D.C. Kontodimas (2012), Pest management control of olive fruit fly (Bactrocera oleae) based on a location-aware agro-environmental system, Computers and Electronics in Agriculture (COMPAG), Vol. 87, pp.39-50, Sept. 2012.
5. Costas M. Pontikakos, Theodore A. Tsiligiridis, and Maria E. Drougka (2010), Location-aware system for olive fruit fly spray control, Computers and Electronics in Agriculture (COMPAG), Vol. 70, Issue 2, pp.355-368, March 2010.
Development of an innovate spatial decision support system for olive fruit fly monitoring and control
Costas Pontikakos, Dionyssios Perdikis,Theodore Tsiligiridis

In this work an innovate Spatial Decision Support System (S-DSS) developed for the management and optimization of the monitoring and control of the olive fruit fly (Bactrocera oleae) is presented. The developed S-DSS is based on a geo-spatial database architecture that combines different data sources such as Location Aware Systems (LAS), Wireless Sensor Networks (WSN), mobile GIS, e-trapping and geospatial risk assessment. The S-DSS aims to facilitate the decision making process in each stage of the monitoring and control of the olive fruit fly. Based on this approach the S-DSS consists from components that provide decisions related to the timing of sprays, the area to be sprayed and the proper spraying process according to the risk level maps, the effectiveness and accuracy of the spraying applications and the protection level of the nvironment. For each component the input data, the output data and the decision making ramework are presented and described.
Key words: olive fruit fly, spatial decision support system, location aware system, monitoring, control.
All Dates
From 2015-05-11 to 2015-05-14